Punk Fiction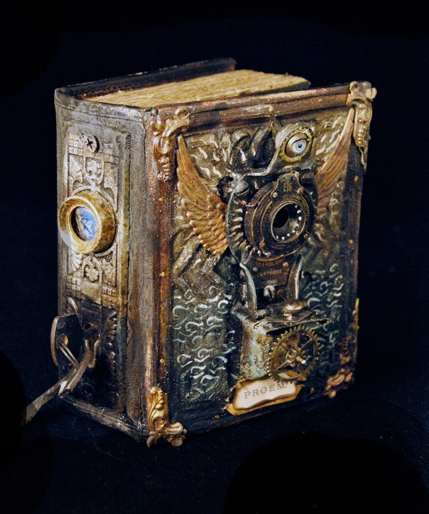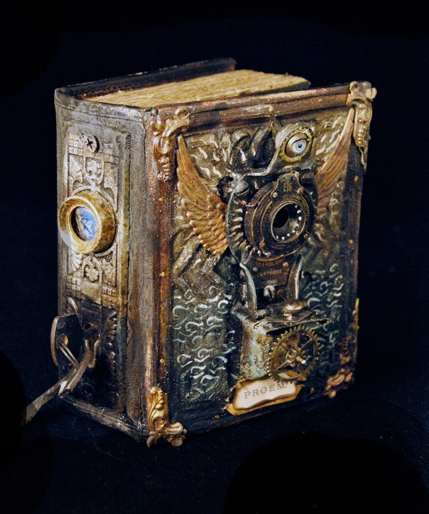 Punk Fiction
PUNK FICTION:


PART ONE:

TAKING COVER


PART TWO: THE CAVE OF PAGES

Two Honkin' Workshops or One REALLY Honkin' Workshop (depending how you look at it)!

PUNK FICTION - CLASS DESCRIPTION
Let's have a little fun dementing old books and journals. This online class focuses on transforming traditional book forms and turning them into bizarre and unusual works of art. We will do this in two parts. Part One: Taking Cover will focus on the exterior Part Two: Cave of Pages will be the interior. Each part can be taken independently or together to create one mighty nifty mixed media manuscript.
PART ONE: TAKING COVER
In this part of the class we will focus only on making interesting covers and backs for our book-ssemblages. This will be done taking book covers and modifying them or starting from scratch and creating a book using a variety of assemblage techniques and painting techniques. Perhaps you'd like a book to look like an ancient artifact dug up in a mummy's tomb…or...something steampunkish is your preference…or maybe you'd like a cover that's a living breathing beasty…or something with a sci-fi twist that fell out of a visiting flying saucer. Whatever you're preference we will explore well beyond the traditional.

PART TWO: CAVE OF PAGES
I love working with old paper and ephemera. Of course, I really love working with it when you can play with the 3rd dimension. I figure why just collage when you can add a little depth and assemblage, so it's time to "read between the lines", literally.
What we're going to do in this class is start off with a base (could be a box, or a hollowed out book, or an emptied out photo album), then using other ephemera, photographs, and found objects, we will transform it into a cave of pages. A visual tunnel leading you deeper into a gripping tale. What lurks behind the pages is up to you. Get ready to start reading into things.
PUNK FICTION PART 1 AND 2: $165
If you prefer to use PAYPAL CLICK HERE
After purchasing I will send you an email with all the necessary instructions. Once you purchase you can watch it at your leisure...no time limit!